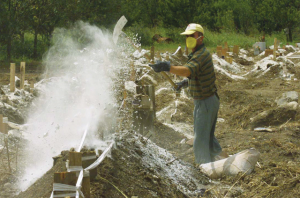 LIME Plant
-Calcium oxide (Quicklime) & Calcium hydroxide (Hydrated Lime)
GCC Plant – Ground Calcium Carbonate (GCC) both surface treated and untreated
Crushing Plant – Aggregate (Crushed Stone) for construction
MCSL mining Industry's natural resources and factory are located at Ban Pin Village Thakhek, Khammouan Province, Lao PDR with a production capacity of 100,000 tons annually of high grade Lime products and visible constantly expansible.
MCSL chemical grade Limestone made from high quality, natural deposit of limestone, and meeting exacting chemical and physical properties, MCSL has chemical grade limestone products that provide high-performance and cost-effective. The company utilizes internationally recognized production technology of high efficiency from MAERZ of Switzerland to manufacture Calcium oxide, CaO and Calcium hydroxide, Ca(OH)2
MCSL is also produces Ground Calcium Carbonate both coated and uncoated using the most advanced technology from HOSOKAWA –ALPINE, Germany with a production capacity of 80,000 tons/year and 100,000 tons/month for Aggregate (Crushed Stone).